Rubbish removal in Horsham, West Sussex
Fast waste removal in Horsham, Southwater, and nearby areas
Goodbye Rubbish is a expert team of waste removal specialists working in your local area. Our dedicated team will always go the extra mile to ensure that your needs are met. We work with residential, commercial, and industrial customers who rely on us for our comprehensive waste removal solutions.
We are committed to recycling as much waste as possible and will provide time slots to suit you, with a two-hour arrival window. We believe in offering a trustworthy, honest, and transparent service. Therefore, we can offer you a free and no-obligation service and provide waste removal 24 hours a day, seven days a week. We also offer a quick and easy alternative to hiring a skip.
Located in West Sussex, Horsham is a historic market town known for its diverse properties. Homes range from quaint cottages to modern developments, catering for all budgets and lifestyles. There is also a large number of commercial properties here. We can remove waste from any location and have the expertise to take on any job.
Our recent testimonials for happy customers include comments such as,
Fantastic service from the team at Goodbye Rubbish! They arrived promptly and are always friendly with a brilliant work ethic. Thanks again.
Another customer added:
Excellent service. Professional and friendly. They went above and beyond. Highly recommend!
To find out more or to book a clearance, please call 020 3488 5339.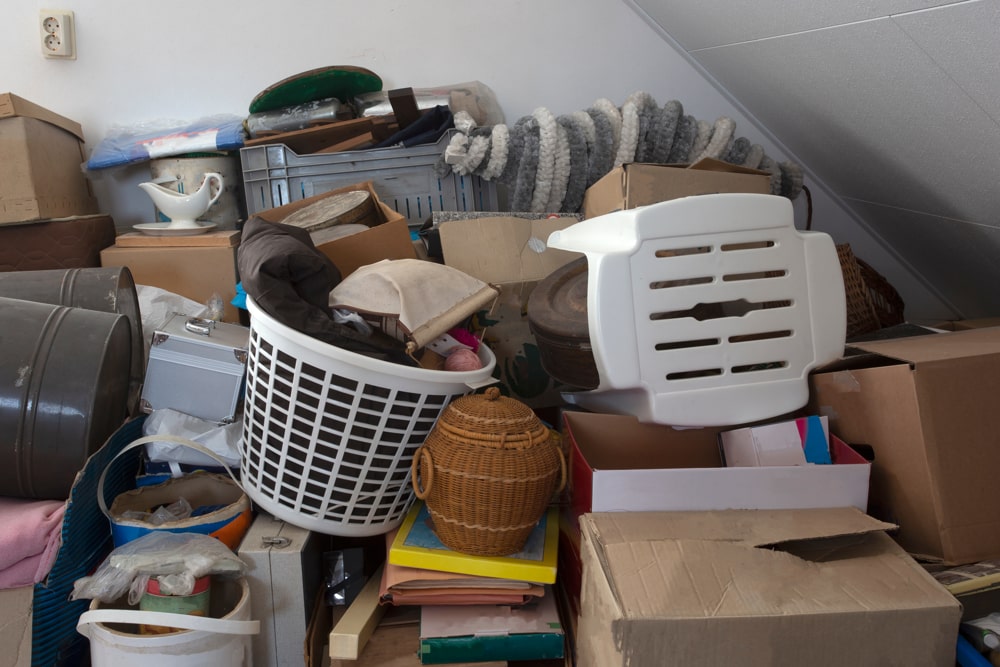 House clearance and flat clearances in Southwater
Our household waste removal company can complete all house clearances, flat clearances, bungalow clearances and garage clearances. We work safely, professionally, and responsibly to eliminate unwanted items in any home.
From old fridges, freezers, beds and sofas to old electrical items, curtains, clothing, and more, you can clear any property without the headache of having to do it yourself. We deal extensively in probate house clearances, and our respectful and polite staff understand that this is a difficult time for everyone.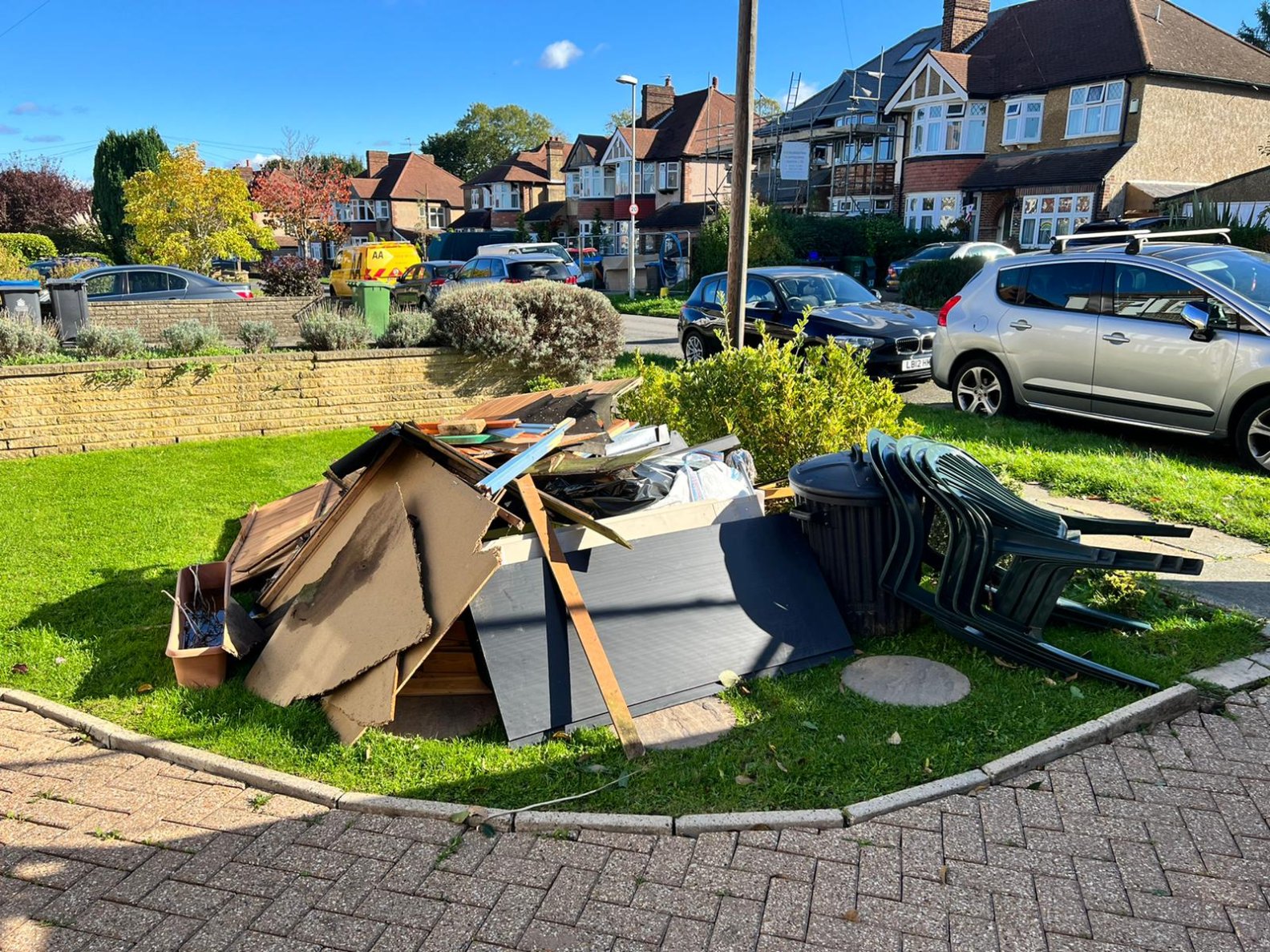 Garden and green waste clearance Horsham, RH12
Goodbye Rubbish is pleased to offer green waste and garden rubbish removal. No job is too big or small. We can remove all green waste like soil, weeds, branches, grass and leaves, wooden and metal sheds, fencing, old garden furniture, and play equipment.
Our team can remove your waste in one day and take it away immediately. This means you will not have to apply for a skip permit from your local council, and you will save time and money.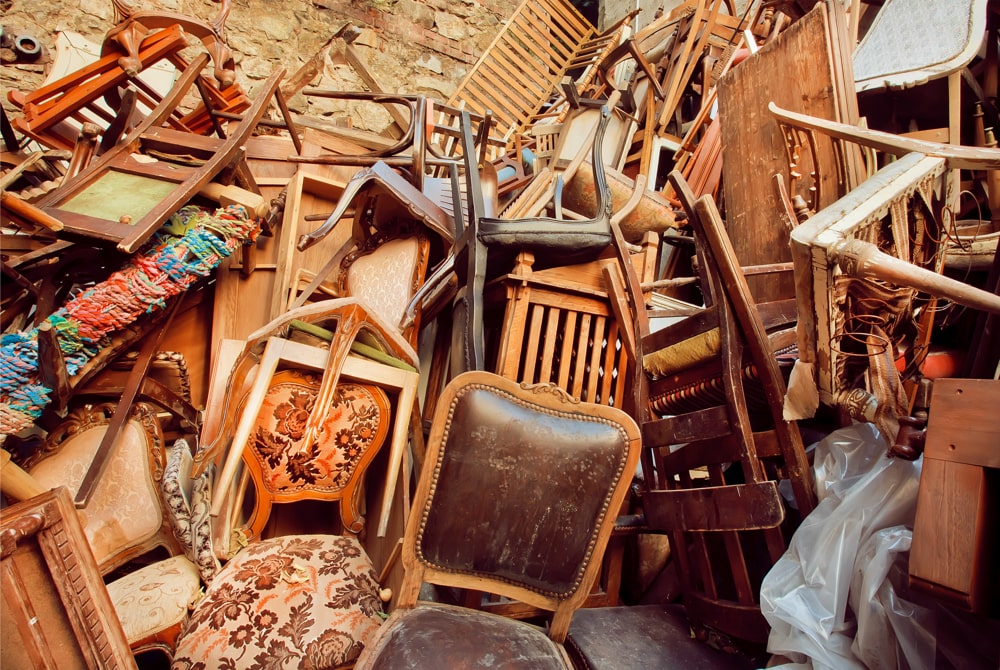 Eco-friendly rubbish removal Horsham
We are fully licensed waste disposal specialists, and we remove all waste with the utmost professionalism. From basic rubbish removal to completely clearing whole garages, we will assist you every step of the way.
We have a vast amount of experience in the waste industry. We only work with approved waste transfer stations with proven track records when it comes to recycling rates. We do our very best to ensure that as little waste as possible is sent to landfill sites, so you can fulfil any environmental responsibilities.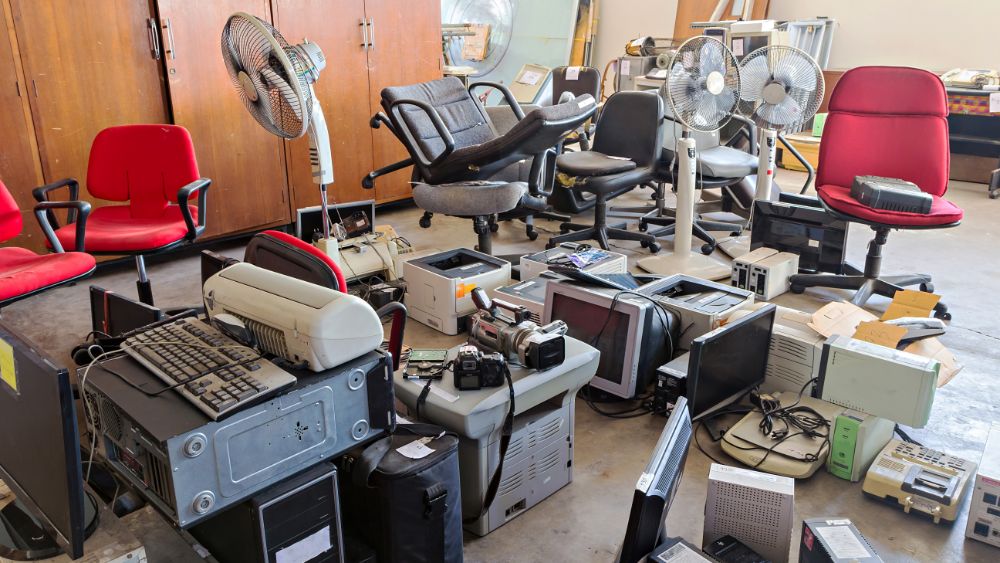 Office waste clearances in Horsham
Here at Goodbye Rubbish, we can remove all commercial and office waste. So whether you are moving out of your current office and need to get rid of old desks and computers or have a large amount of confident paperwork you need to get rid of safely, we can help.
We offer same-day or next-day pick-up to accommodate busy schedules and can work hard to minimise any disruption. All commercial clearances and completely tailored to the needs of our clients and are designed to make the process as swift and cost-effective as possible.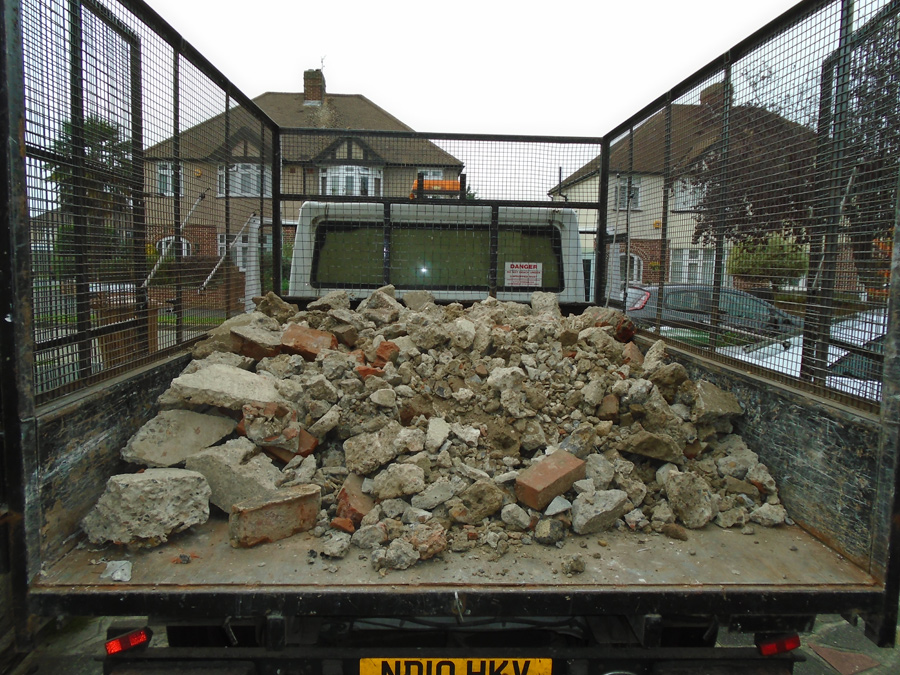 Do you require Horsham building site clearances?
Do you need Horsham building waste removal near you? We can clear all building sites, from small house renovations to large property developments. You will benefit from having a clean and tidy site, with less risk of injury to workers, staff, family, or passers-by.
Our rubbish removers can remove all types of waste, including ripped-out bold bathrooms and kitchens, old cardboard and packing paper, old roofing, carpets and other materials.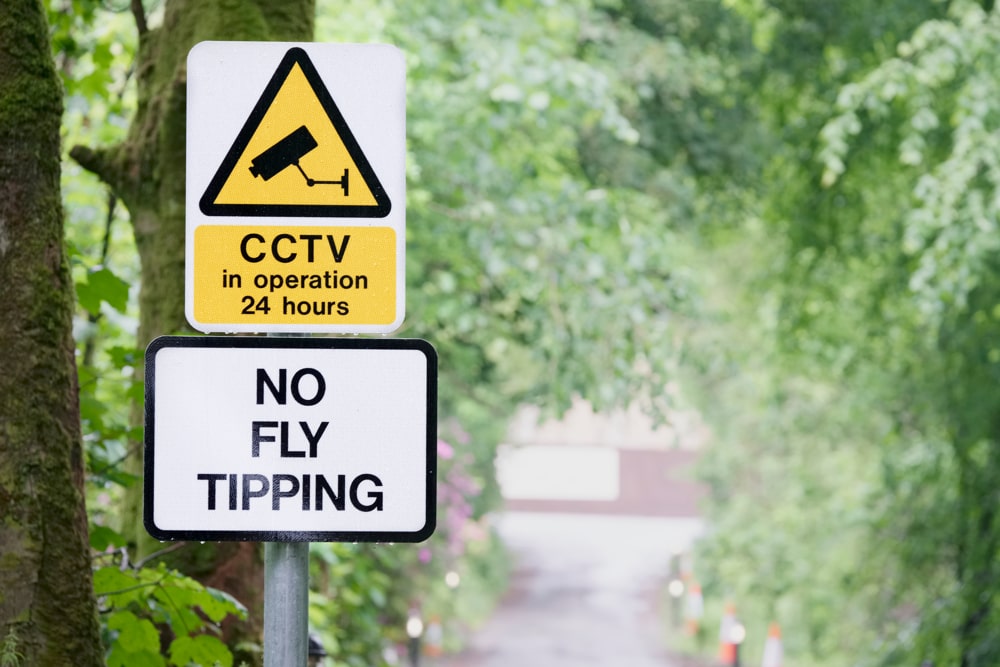 Fly tipping waste clearance Horsham
Do you need fly-tipped waste clearance? We specialise in removing all types of fly-tipped waste, from building rubble to old mattresses. Getting rid of fly-tipped rubbish from your premises is crucial because it can attract vermin and more fly-tipping.
We are fully insured and can undertake risk assessments to remove fly-tipped rubbish. We follow the highest standards of health and safety.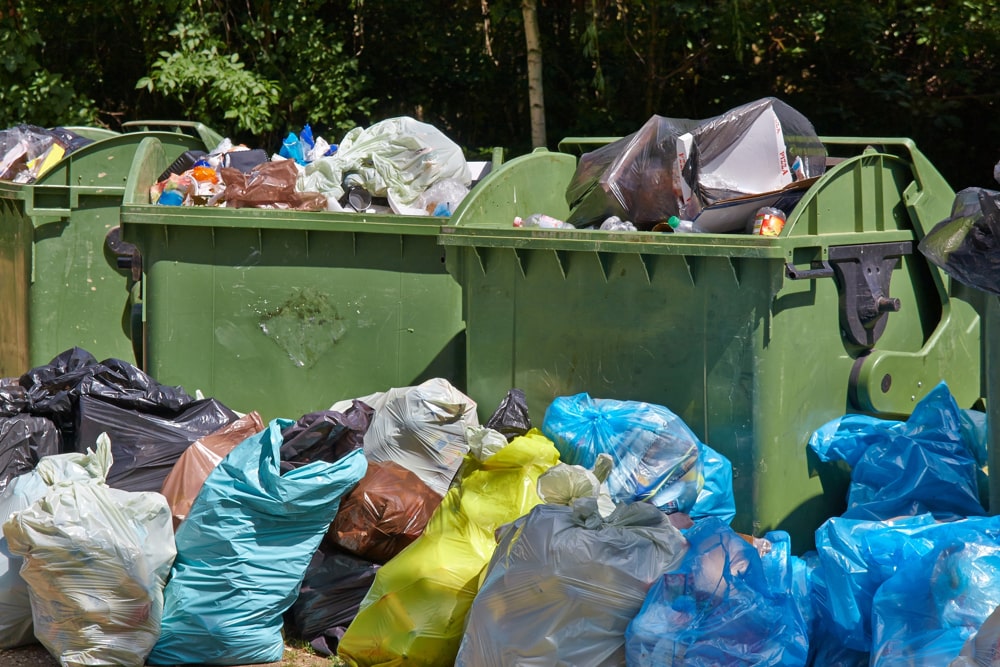 Weekly bin collections near you
If you are looking for a responsible waste collection in addition to your council rubbish collections in Horsham, Goodbye Rubbish can provide weekly bin collections or ad hoc waste collections. Our safe and secure waste clearance means we have the tools and experience to help, whatever the situation.
If you are working towards sustainability goals, we can become trusted partners and help you achieve your aims. Our trusted team of waste removal specialists can offer advice and help.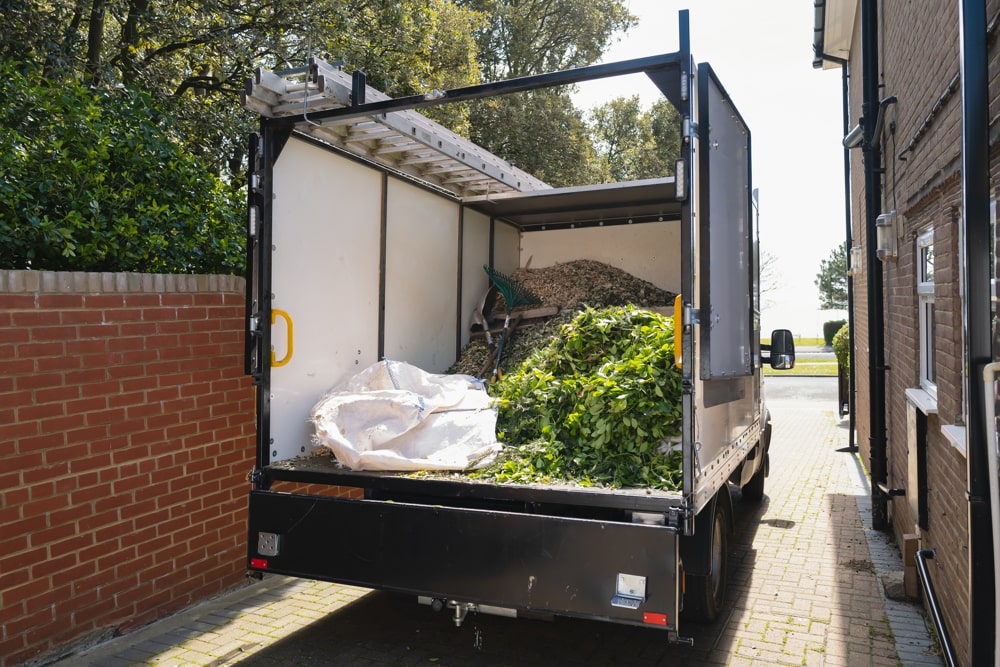 Affordable Horsham wait and load
Wait and load can provide a fast and convenient waste removal method. We turn up at an agreed time whilst you load your waste onto one of our trucks, and we take it away to be disposed of.
We can provide same-day service, so you will always be on time. Our team can give you an accurate window for arrival. As Environment Agency-licensed waste carriers, we believe in looking after the environment.
Wait and load provides an excellent alternative to skip hire, which can often require a skip hire permit and will take up space on a driveway or outside your property.
All household furniture (sofas, mattresses and beds)

Kitchen cupboards, worktops

Doors – uPVC, composite or wooden

Large electrical items (fridges and freezers etc)

Garden furniture including patio chairs and decking
Children's toys, prams and pushchairs

Carpets, flooring (including underlay, laminate and hardwood)

Garden toys, including slides and swings

White goods (washing machines, tumble dryers etc)

General waste (books, clothing, luggage etc)
For a free and no-obligation rubbish removal quote in Horsham, get in
We can remove all types of waste in Horsham. Please call 020 3488 5339 or email info@goodbyerubbish.co.uk to book an appointment. We will always get back to you quickly – customer service is at the heart of our work.
We also provide waste clearances and house rubbish removal in Brixton.
We cover and the following local areas:
Abinger
Capel
Dawesgreen
Dorking
Holmwood
Leigh
Newdigate
Westcott
Wotton